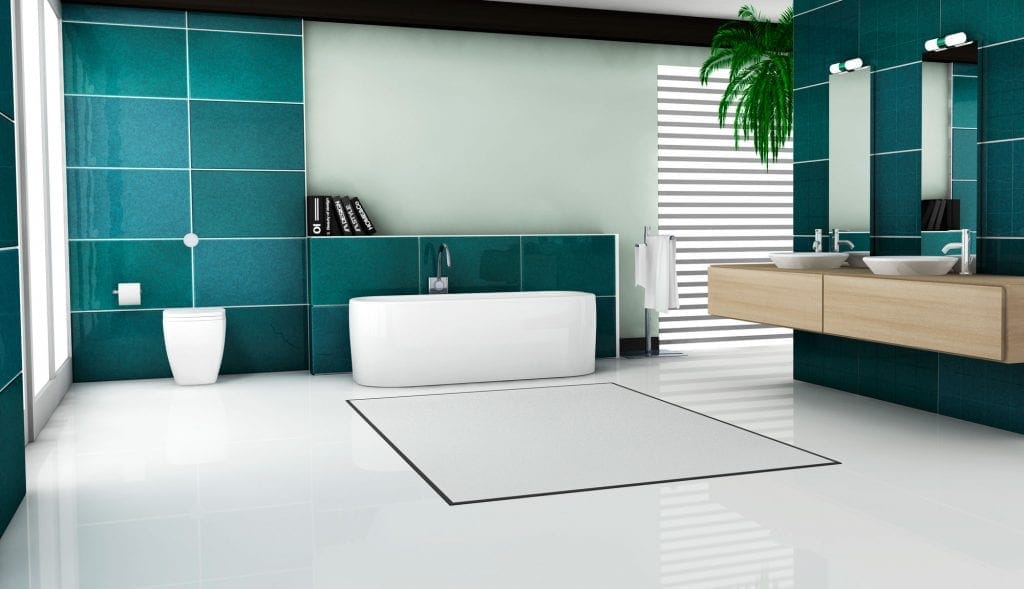 Professional Tile and Grout Cleaning Sunshine Coast
Tiles are commonly used in high traffic areas throughout homes and businesses, therefore dealing with high levels of bacteria, grime, spills, dirt etc. Undoubtedly, no amount of scrubbing can cope with such punishing activity. However, there is a way out! It's professional tile and grout cleaning Sunshine Coast from Steve and his Shipshape services.
Steve offers a professional tile and grout steam cleaning service using specialized cleaning solutions with a truck mount machine that reaches temperatures up to 80 degrees. Once cleaned Steve will rinse and neutralize your floors for a fresh new feel.
Professional tile and grout cleaning Sunshine Coast will not only bring back the shine. It will also kill bacteria, remove built-up grease and grime leaving your tiles hygienically clean ready for immediate use.
Feel free to ask Steve how to keep your floors in Shipshape condition with tile and grout sealing. What's more, our scheduled maintenance clean and our products will help you look after your floor in between professional cleaning.
Tile Sealing Sunshine Coast
For any home or business owner tiles are a substantial investment, the life expectancy of your tiles is considerable. Therefore, it is imperative to look after and maintain them in the best way possible. Professionally sealing your tiles will ensure a great resistance to spills, stains, mould, and discoloration.
Most tiles when laid have a factory seal or glaze which is sufficient for the life of your tiles. It is a common misconception that all tiles can be sealed. With tile and grout cleaning Sunshine Coast you won't pay for needless tile sealing. Steve will identify the tiles in your home or business and discuss an appropriate method to clean and seal (if warranted) for maximum results.
Please don't hesitate to contact Steve for more information about tile sealing Sunshine Coast or supplying the correct cleaning equipment and cleaning solutions.
Types of Tiles Shipshape Services Clean and Seal
Professional tile and grout cleaning Sunshine Coast is available for:
Travertine tiles – A form of limestone, travertine is a soft stone with natural surface holes and crevices which require regular maintenance.
Terracotta tiles – Clay tiles that vary in color and texture, these are porous and should be sealed before use.
Sandstone tiles – With a grainy texture and huge variations in appearance, most sandstone, especially coarse-grained tiles, will require sealing to protect the surface.
Slate tiles – Can be polished and sealed or left in their natural state. Slate is a sturdy surface that will stand the test of time if cleaned and sealed correctly.
Limestone tiles – These should be pre-sealed before installation because they are soft and susceptible to marking and scratching. Not recommended for high traffic areas.
Marble tiles – seal when newly laid and keep grit free to avoid scratching and damage. Marble tiles may need repolishing every few years in high traffic areas.
Porcelain tiles – these man-made tiles are fine-grained and glazed or unglazed. They are hard wearing and do not usually require the same amount of maintenance, however cleaning and resealing will preserve their beauty.
Granite tiles – Practically impervious to scratching, staining and may only need sealing to protect the grout.
Grout Sealing
New tiles and grout? Prevent stains and discoloration of grout before it happens with an application of grout sealer making cleaning and maintenance easier. Tiles and grout that have already served for a while? Let Steve take a look at your tired tile grout and advise you how to restore and refresh for a new look.
Grout resealing will give best results following a deep tile and grout steam clean removing stains, dirt, grime, bacteria etc. Sealing grout is necessary for wet areas to cut down the incidence of hazardous moulds and bacteria that grow on surfaces. These are hard to remove from grout with standard cleaning methods. Moulds and bacteria cause black, ugly staining and are often the cause of odours in bathrooms, toilets, and laundries.
Recolouring Grout from Shipshape Tile and Grout Cleaning Sunshine Coast Services
This is best done after a deep clean. You will not believe how different your floor or wall tiles will look after the grout is cleaned and recoloured. For the best results, we apply a grout sealer to protect against further staining and marks.
Shower Grout beyond a Clean?
Sometimes mould will build up behind silicone as well as in the grout. However, it's not a problem with grout cleaning Sunshine Coast services from ShipShape.
We will clean the shower tiles and grout, remove and replace the silicone with epoxy grout sealer that has a hardener in it. This is a great way to rejuvenate your shower and give it a brand new look.
Note that with Shipshape grout cleaning Sunshine Coast services the choice of colours is available.
Marble and Stone Polishing
Marble and stone surfaces change after several years of exposure to air, water, wear and tear and cleaning solutions. That's why Shipshape tile and grout cleaning Sunshine Coast services include marble and stone polishing.
We have the experience and technology to polish years of grime and wear off your marble or stone tiles. We use a diamond pad system, hand machines and lamb's wool buffers for marble polishing and stone polishing to achieve a seamless finish.
With Shipshape tile cleaning Sunshine Coast services you can also get polished and restored:
Marble benchtops
Stone benchtops
Pool surrounds
Outdoor tiles
Decorative stone or marble panels
Marble and Stone Post Polishing Care
Once your marble or stone has been restored, you will want to keep it looking fantastic as long as possible. If you are experiencing problems, we have listed eight common problems and solutions Shipshape tile cleaning Sunshine Coast services offer:
Etching
Dull spots from acidic liquids, most usually occurring on marble and limestone. Acidic cleaning solutions and certain drinks will etch. If etching is light, it can be removed with marble polishing powder. Deep etching will require professional stone polishing.
Efflorescence
White powdered residue on the stone surface, caused by exposure to an excess of water. The stone should be buffed, but effloresce will continue until it dries out.
Dullness
Usually from wear and tear. Keep softer stone floors mopped and place doormats at all entrances. Badly worn tiles will require professional stone polishing.
Pitting and Flaking
A serious problem if small holes are developing in your tiles or pieces is flaking off. This is caused by trapped deposits from excessive water, and will usually mean that the stone must be replaced.
Staining
A common problem as most stone surfaces stain easily. Foods, drinks, oils, and rust will stain marble and limestone. It is best practice to apply sealant when stone or marble is laid and clean spills as soon as they occur.
Cracks
The most common causes are settling, poor installation or accidents. Cracks can be repaired with colour-matched epoxy.
Watermarks
Rings and spots from water are common on kitchen benches and marble tops. Marble polishing powder will remove light spots whereas deeper spots may require honing. A stone paste wax on bench tops and tables will help prevent watermarks.
White Stun Marks
Most usually occurring marble, high heels and blunt object pressure are the common causes. Grinding and honing may reduce stun marks but they can prove difficult to remove.
Sandstone Cleaning
Shipshape tile and grout cleaning Sunshine Coast services also include sandstone cleaning. Sandstone tiles are durable, easy to clean and less expensive than other stones. On the downside, sandstone needs to be sealed as it can be porous and is reactive to acid.
Well maintained sandstone tiles add timeless appeal to any property, but improper cleaning and lack of maintenance can make them prone to scratching, staining, and fracturing.
Steve can keep them in Shipshape condition. He can provide the best sandstone cleaning solutions and maintenance schedules to prolong the life and beauty of your tiles.
Foot traffic is one of the main reasons that sandstone tiles become dull because fine scratching occurs from dust, sand, and grit being underfoot. After prolonged wear tile surfaces lose their reflective properties and look worn and tired. As part of our sandstone restoration process, we use a specialised polisher to return a smooth finish to your sandstone tiles. Besides, we apply a penetrating sealer immediately after cleaning sandstone tiles to reduce soiling and acid attack. As a rule, sandstone tiles look best with a low to a medium sheen.
Sandstone Sealing
Sandstone Sealing is one more offer from Shipshape tile and grout cleaning Sunshine Coast services.
Sandstone has a high porosity which means oily substances will absorb quickly and leave stains, while red wine, lemon juice, and colas will cause acid etching.
0400832374
We use a penetrating sealer to protect your tiles and grout from stains, scratches, and acids. Sandstone sealing with a breathable, impregnating sealer means you will have fewer problems with staining, scratching or acidic liquids. Furthermore, cleaning and maintenance will be easier.
Impregnating transparent sealers will provide excellent protection and enhance the natural look of the stone.
Caring for Sandstone Tiles
Sandstone tiles are easiest to maintain with a maintenance program in place. The following tips will help you keep a surface sheen and cut down on stains between professional sandstone cleans.
Do's:
Clean any spills immediately;
Seal sandstone tiles when installed;
Make sure there are mats in doorways to prevent excess dirt and grime on your sandstone tiles;
Clean sandstone floor tiles regularly with a microfiber mop.
Don'ts:
Use bleaches or ammonia;
Use vinegar or acidic cleaners;
Use scouring pads or brushes and abrasive cleaners.
Are you already interested in any of Shipshape tile and grout cleaning Sunshine Coast services? Don't waste your time and contact us today!
Contact Steve Today
Phone:0400832374